Pandora was founded in Copenhagen, Denmark, in 1982 by Danish goldsmith Per Enevoldsen and his wife Winnie. The unique Pandora Clasp signature bracelet was patented in 2000. Today, Pandora jewelry is sold in more than 80 countries on six continents. Pandora employs more than 9,000 people worldwide of whom 6,800 are located in Gemopolis, Thailand, where the company manufactures its jewelry.
Pandora is the second most recognized jewelry brand in the world.
Bracelets • Charms • Necklaces • Pendants • Rings •  More!
The Charms
Pandora has earned a reputation in the jewelry industry for using the highest quality materials and for creating processes that ensure quality during manufacturing. Pandora charms and jewelry are made from high quality 92.5% sterling silver and 14k gold. Moments (charms) feature hand-set (never glued) gemstones and cubic zirconia, durable enamel, and hand-crafted Italian Murano glass.  Murano glass does not include paint, but rather is made by hand with colored glass. It is this glass that appears in many creatively colored patterns. View the intriguing process of manufacturing Murano glass as seen in this video. Murano glass charms maintain their color even after years of wear. Pandora charms are specially designed for Pandora bracelets.  Many charms "thread" onto the bracelet using the unique and patented Pandora system.

Annie's Baldoria Exclusive Sentiment Cards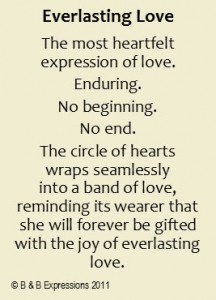 Your bracelet reflects you. Dazzling travel charms, occupations, hobbies . . . many of these charms have special meanings for you. As a reminder of how these charms have helped create your story, we offer exclusive Sentiment Cards with every Pandora charm you purchase at Annie's Baldoria. Keep the cards to capture the story of your bracelet. Be sure to include a sentiment card from Annie's Baldoria with each Pandora charm you gift to others to help the recipient understand the meaning of her new charm.
All women have personal stories to tell – a personal collection of the special moments that make them who they are. These are the unforgettable moments that must be celebrated! Perfect for birthdays, anniversaries, holidays, special occasions, and just because. Come in today – don't wait to celebrate life's unforgettable moments.
For Sisters • For Moms • For Best Friends
For Brides • For Anniversaries • For Birthdays • For YOU!
Pandora's Bracelet Builder
Design your bracelet with ease and from the comfort of your home using Pandora's Bracelet Builder. Add and remove charms until you have created the bracelet you love. The bracelet builder provides you with the retail price of each item. Email your list or call (contact information below). We will create your bracelet as you designed it and SHIP IT FOR FREE* within 48 hours of receiving your order.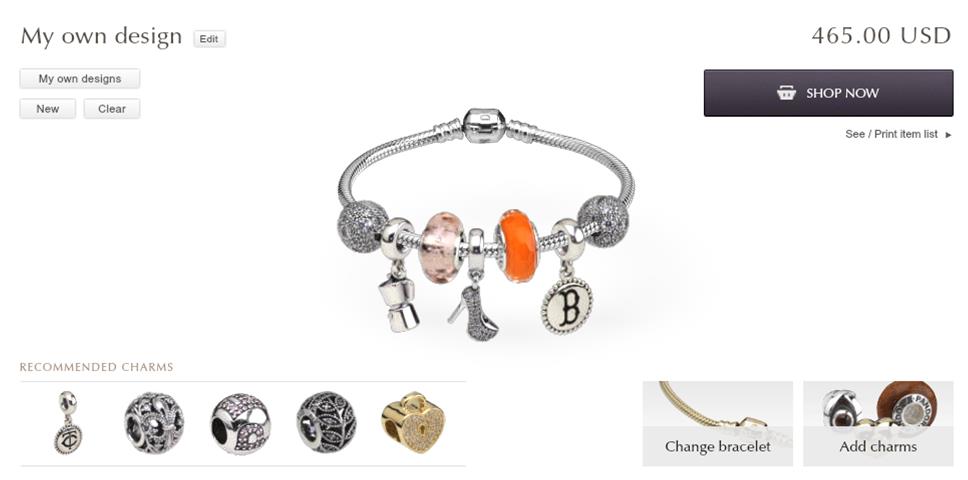 Contact: 603-898-1778 and ask for a Pandora Associate or
email us at: Annies-Hallmark-Baldoria@baldoriabyannies.com
*FREE SHIPPING with your order of $50 or more
Essence
The Essence collection features a slender sterling silver Pandora bracelet with an accompanying array of delicate hand-finished sterling silver charms. The charms slide into place and stay in position thanks to Pandora's new patent-pending design which has a flexible silicone grip built into each charm. The Essence collection charms represent your most cherished qualities: wisdom, health, love, passion, strength and more. The symbolic charms will empower your inner Essence – or that of the recipient.
Compose Earrings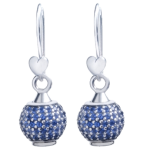 The unique Pandora Charm Barrel allows you to wear Pandora Openwork Charms (designed for the Pandora bracelet) as earrings.

Rings
PANDORA rings come in a range of beautiful gemstones and precious metals. Fabulous designs allow you to mix and match rings to create your own unique look.
Like the Pandora Bracelet Designer mentioned above, Pandora offers a Pandora Ring Designer that allows you to play with the look of stacked rings. Click here to create your stack.
We carry an extensive range of sizes. If we don't have your size, a special order is placed the same day; Pandora shipping frequently means products are received in 7-10 days. (We'll ship it to you for free if you so wish)!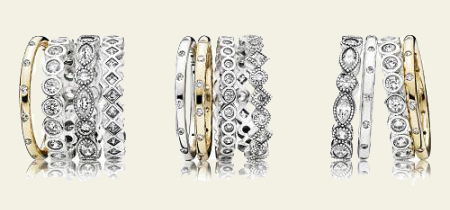 The Ribbon Card  – Baldoria Rewards Program
• No membership fee or hidden costs.
• Earn one point for every dollar spent.
• 300 points = $10 towards your next Annie's Baldoria purchase (excludes Pandora)
• Double Points!  Throughout the year we will run special promotions giving you the opportunity to earn double points on your purchases.
Sign up at our Pandora counter today!
Annie's Thoughts:
• Traditional bracelets, bangles, and leather offer distinctive ways to add variety.
• Did you know? One of the best things you can do to keep your bracelet looking clean is . . . wear it and wear it often! The oils in your skin are slightly acidic, which counteracts the oxidation process of sterling silver.
• Complement your bracelets with coordinating earrings, rings, and necklaces. Match them perfectly . . . or coordinate with a style element found in all pieces.
• Baldoria offers free cleaning of all Pandora jewelry. Seven days a week. Leave your bracelet with us to clean while you shop. Cleaning your bracelet – it's quick, it's easy, it's free!
View the current Style Guide here
Click  HERE to join the PANDORA club for exclusive offers, personal jewelry tips, and much more.
Click here to visit www.Pandora.net