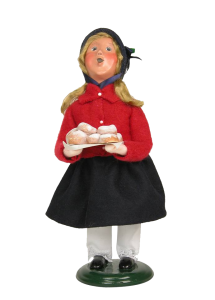 Each Byers' Choice Caroler begins with a cut coat hanger which is bent to form a wire frame.  Plaster is hand poured onto a table, and the coat hanger is placed in the plaster to dry.  Once the plaster hardens it is coated in green paint, and the body is sculpted with tissue paper.  The heads of the carolers are hand-sculpted and made into molds which clay is pressed onto.  The artist will wait until the clay is dried, and remove the dry clay from the mold in order to clean up any imperfections.  Once the clay dries, the head receives a coat of flesh colored paint.  Each artisan brings each face to life with lifelike features, no two are exactly alike.  The carolers are then dressed in their clothes and formed into a specific pose, there will never be more than 100 sets of any design making them truly a unique collectible.
Byers' Choice Ltd. products are made by hand in the United States.  Joyce Byers founded the company in the 1960's using her degree in Fashion Design and passion for the classic and timeless holiday season to fuel the company success.  Today, Joyce continues to design the carolers' clothing and other various artistic features of the beloved figurines.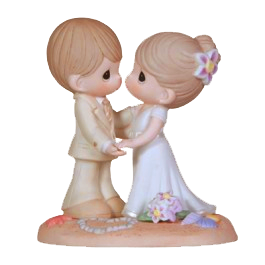 The Precious Moments story began more than 35 years ago when illustrator Sam Butcher wanted to spread his message of faith in an artistic way.  Precious Moments began in the 1970's as a line of cards and posters under the company name Jonathan and David.  By the end of 1978, the "Original 21" porcelain figurines were released to an eager consumer base who flocked to buy the product.  Sam Butcher received many letters of heartwarming stories of how the Precious Moments figurines touched lives and inspired people.  Precious Moments has thousands of pieces aimed at promoting love and faith.  In addition to spiritual figurines, there are a series of Disney figurines, Growing in Grace, and other commemorative items to help you cherish life's precious moments.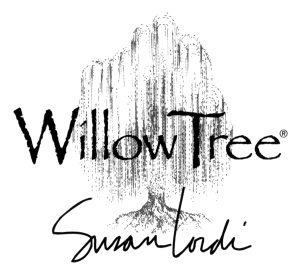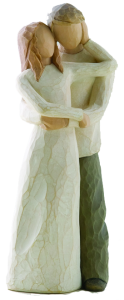 Willow Tree by Susan Lordi is a collection of resin sculptures inspired by art, dance, nature and personal experiences with the people in our lives. Susan uses her artistic abilities to sculpt emotions we experience in the world around us.  Each piece is cast from an original, hand-carved sculpture and painted by hand.  The Willow Tree collection embraces personal relationships and emotions. The most popular figurines include those of parents with children, loving couples, teachers, and angels—though there are many more to choose from.  Willow Tree makes several spiritual figurines.  Very popular at the holidays are the two different scaled Nativity Sets and holiday ornaments.  An Annie's Favorite!
Other Collectible Favorites
 •    Hallmark Keepsake Ornaments    •    Hallmark Hall of Fame DVD's    •    Disney      •    Peanuts