BABY MUST -HAVES!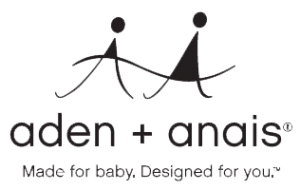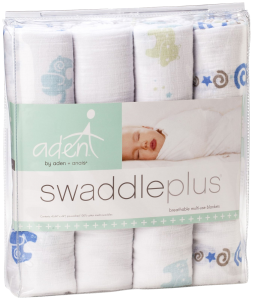 When aden + anais® Co-founder and CEO Raegan Moya-Jones left her family in Australia to move to America, she had no idea she would be embarking on motherhood in this brand new culture. In 2003, expecting her first baby, she set out to find the muslin wraps that Australian moms use to swaddle their babies.  Raegan could not find that soft, breathable wrap that was similar to the muslin wraps from back home, which she knew would be a perfect tor her new daughter, Anais. Determined, Raegan found herself "inventing by way of necessity" (reminiscent of Plato's Republic) as she followed her passions and soon became not just a "mom on a mission" but a baby industry entrepreneur and innovator. Soon aden + anais® was born and can now be found in thousands of stores across 63 countries.  Raegan was delighted to find a way to bring that piece of her native land to the place she now calls home, all the while allowing other moms to be able to enjoy that same luxury.
The signature muslin swaddle works as a stroller cover, tummy time blanket, nursing cover, burp cloth and more.  It allows baby to feel safe and comfortable.  It's so versatile that parents love it, too.  Every item goes through a rigorous course of testing  – including tests by Raegan on her four girls. Our #1 recommendation for the New Baby!

They say "necessity is the mother of invention." Carla Schneider learne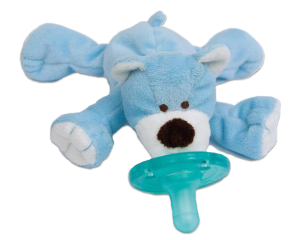 d this on her first family vacation.  Hoping for a fun, relaxing time, she instead spent vacation with a crying infant whose pacifier was constantly missing.  Needing to craft a solution, Carla took her baby's favorite soft plush toy and, using the hotel's      sewing kit, sewed the pacifier right onto it. Thus, the first Schneider family vacation ended happily, and the first WubbaNub was born!
Carla's patented concept is a truly innovative improvement to the classic pacifier that has been a family staple for decades. The pacifier is ma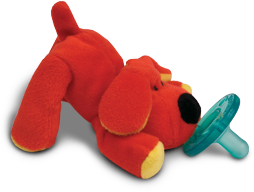 de of medical grade silicone and is BPA free. The soft plush portion provides comfort to the touch and makes it much easier for baby's tiny fingers to grasp and manipulate the pacifier, translating into fewer bouncing, rolling and lost pacifiers.
WubbaNub strives to surpass the strictest of codes and governmental regulations that ensure it is offering the best and safest WubbaNub products possible.
Your baby's happiness is your own. WubbaNub appreciates that goal and aims to bring happiness to your whole family — one pacifier at a time!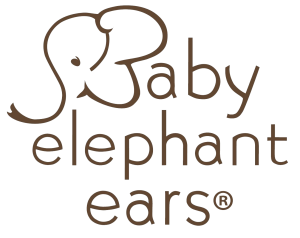 Every mother is a working mother.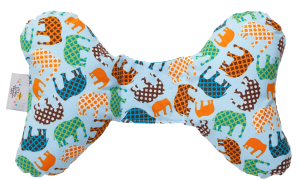 No one knows this better than Alicia Overby, creator of Baby Elephant Ears, whose four children range in age from one to five. Alicia loves being a mom, but in 2005, when her second child cried constantly without being able to find acomfortable position, Alicia had to seek medical advice. She found herself in a chiropractor's office, where Baby Finn was successfully treated for a partial dislocation brought on by a difficult labor. 
The hope was that Finn would experience relief for his sore neck and that his digestive tract would be aided by proper head, neck and back alignment. The chiropractor suggested to try using better support for his head and neck when he was in a seated position (car seat or stroller). Unsatisfied that she couldn't find anything that fulfilled her needs adequately, Alicia took matters into her own hands. She crafted her own infant support pillow and the first Baby Elephant Ears was born! 
Over time, Finn adjusted to life outside the womb with much help from his new support pillow. Alicia determined the experiment had been a success worthy of sharing with others. Baby Elephant Ears is a beautiful and useful baby product: great for babies,  for parents, and for friends and relatives seeking a thoughtful and creative baby gift.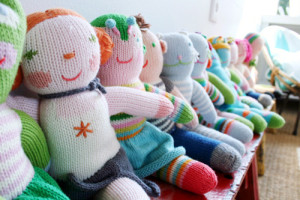 Blabla was created in 2001 by Susan Pritchett and Florence Wetterwald, two good friends who shared a  similar philosophy of life and beauty.​ ​
While visiting Peru,​ ​they​ ​came across entire villages of ​expert ​knitters​ who ​had been keeping their crafty   tradition alive for generations.​ ​Inspired by their ​talent and ​touched by their ​gentle ​spirit,​ ​​Susan and Florence decided to start their own company of knitted products for children​. They have been working with the same Peruvian artisans for more than ten years. ​With a commitment to fair trade, and with environmental awareness in mind, ​the Blabla mission is to continue to inspire joy and laughter.​ ​
The  magic  and whimsy of Blabla dolls evoke laughter from babies only months old. Made from 100% cotton natural Peruvian fibers, these dolls become baby's first and favorite doll, a life-long friend for your child!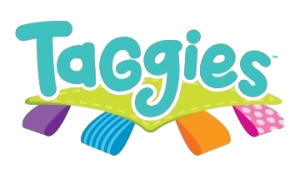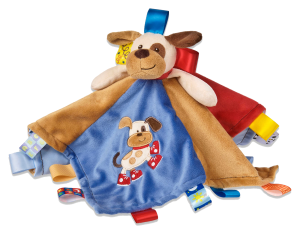 Do you know the secret of the tags?
Taggies™  was born when a mother of three noticed her children's fascination with satin tags. Her observation blossomed into a world of favorite and beloved products. Rubbing these soft, textured tags can provide the tactile stimulation that all babies crave in terms of sensory development, while also having an amazing calming effect.
Every Taggies™  tag is unique. Taggies™  ("interactive tagged blanket") books, blankets, and toys provide your child with both an exciting activity and a soft, cuddly friend. Your little one will love his or her new security blanket.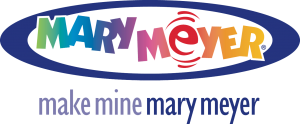 Mary Meyer baby mats have been making babies happy for years, and there's no end in sight.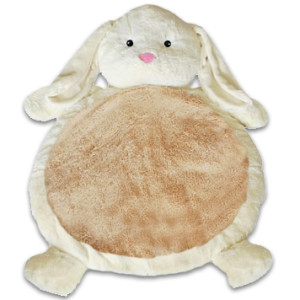 Mary "Gram" Meyer started her beloved toy company in 1933. Almost 80 years later, her children and grandchildren are keeping the legacy alive with over 400 products in the Mary Meyer line. One of the most popular is the baby mat, a favorite among infants, toddlers, and parents alike.
The ultra soft fabric keeps them snuggled in for naptime, play time, or any time. The 31″ mat provides plenty of cushy comfort (extra cushion in the head, arms and legs) while your baby naps or plays. The Mary Meyer play mat easily rolls up for families on the go and can be easily stored in small spaces. Unlike the post-meal clean-up with which parents are all too familiar, cleaning your baby mat will be easy: Machine wash and drip dry and your baby mat will last for years, becoming your child's treasured possession.
While created for infants, toddlers and small children also love to use the mats to watch TV or read a favorite book. Recognized by NBC's Today Show as a Top 10 Gift for Children!

Bearington Collection was founded in 1997 by the Strays as a family company dedicated to creating themost affordable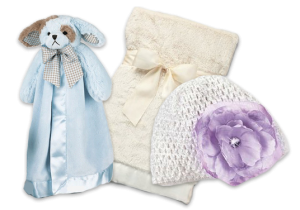 (and adorable!) plush gifts, collectibles and accessories of the finest quality materials and craftsmanship. As a leader in the collectible plush industry, it was only a matter of time until the company's award-winning designers would create Bearington's admired Baby Collection, the main inspiration of which stemmed from the joyful addition of two baby girls to the Stray family in 2006.
The Bearington Baby Collection includes items from soft baby blankets to cuddly animal coats. Since 2000, Bearington has received more than 100 industry design awards and nominations, including a Canadian Collectible of the Year Award, two CIB Collector's Choice Awards, several TOBY (Teddy Bear of the Year) Industry Choice Awards, TOBY Public Choice Awards, and Golden Teddy Awards.
Beyond the industry accolades, the best testimony is that of parents and kids: Wherever you find a Bearington Baby Bear, you will find a child who loves his teddy with all his heart.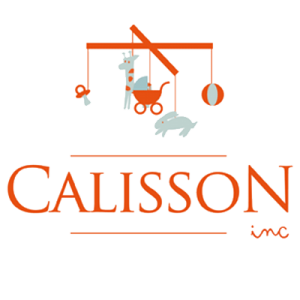 Fifty years ago, the only animal toys available were farm animals or pet figures. One day in France, Mons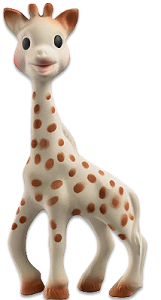 ieur Rampeau, an expert on using sap from trees to mold rubber as a toy-making concept, put some thought into  designing a giraffe. Such an exotic wildlife figure was the first of its kind on the market.  With a size and shape made for baby's tiny fingers, "Sophie la Girafe" went into production Thursday, May 25th, 1961 – –  the Feast Day of St. Sophie's — hence her name!
Parents noticed "Sophie la Girafe" helped teething babies stop crying, and by simple word of mouth, the little giraffe's fame spread.  Since then, generations of children have grown up loving Sophie.  She's a great developmental aid as well:  the squeaking stimulates hearing, the soft texture ( 100% natural rubber)  make her safe to chew and soothing to sore gums, the soft feel simulates the tenderness of baby's mother, the dark spots provide visual stimulation.   Sophie is very light with a long neck that is perfect for even the tiniest baby's fingers to hold.
Vulli, a company based in France, has continued to keep the jealously-guarded secret of how this wonderful toy is made. Sophie is still produced to this day, made from natural rubber derived from the sap of the Hevea Tree, just like day one.  Calisson, Inc. hopes that your child will enjoy Sophie la girafe from day one and will grow to love her for years to come.
GUND was founde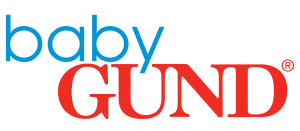 d by German immigrant Adolph Gund in Norwalk, Connecticut in 1898, but it wasn't until 1969 that GUND developed its trademark reputation as "The World's Most Huggable."
GUND was one of the first companies to design and produce teddy bears in the early 1900's. One of the first to introduce licensed plush through a partnership with Walt Disney properties, GUND became the first plush manufacturer to launch a national advertising campaign. Gotta Getta GUND, first introduced in the early 1980's, remains one of the most recognized slogans in consumer marketing.
For more than 100 years, GUND has been a premier plush company recognized worldwide for its top quality and award-winning plush designs, appealing to all ages for both playing and collecting. Each plush toy is constructed from premium materials for unparalleled softness and huggability.
Today, the company manufactures an extensive collection of unique characters and licensed plush under the GUND and babyGUND brands. GUND products are created to embody "the very spirit of a hug," so be sure to keep GUND at the top of your list.
Award-winning GUND products appeal to all ages, from infants up, and are perfect for both play and collecting.


Baby has arrived.  From birth, development and change occur every day.  How to capture these moments?  Photos.  Albums.  Journals.  Keepsake Boxes.  Infant Handprints. 
Capturing the moments of these earliest years is something you'll want to make time for.  Organize those photos, write down baby's first words, save the first locket, make that collage.  Be careful about how much you leave to memory!  Baby is only young once.