Accessories
With a timeless Joseph Ribkoff dress, a statement-making Brighton handbag and your own story on a PANDORA bracelet, you may be feeling that your outfit is still lacking a piece that distinctly announces "YOU."  We carry fashion accessories including trendy hats, a large selection of fashion scarves and scarf rings, women's shape wear – SPANX – and more!
A few of our most popular lines:
 Tribal • Vera Bradley • Baggallini • Alex and Ani 
Some of our favorite jewelry lines trending up right now?
• Cape Cod • John Mederios •  Kameleon • Convertibles • Costume Jewelry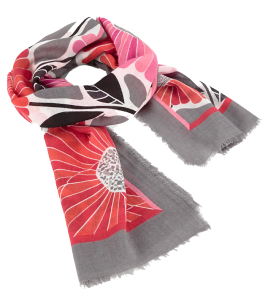 Annie's Thoughts:
• Scarves are the perfect accessory year-round.  Frustrated that you cannot tie a scarf to create that chic look so popular now?  You can do it!  Teach yourself the art of scarf-tying here.
• Vera Bradley's fun and playful patterns look great on accessories to add to a basic outfit.  Vera offers glasses, hair pins, clips and more . . . take one of the colors in the Vera pattern and match it to your shoes or a simple t-shirt with jeans for a fun, coordinated look.
• Spanx – a must-have accessory to get rid of those unwanted panty lines under casual or dress pants.
• Hats are not only fashionable – – they're practical, too.  Wearing a hat in sunny weather helps to protect your eyes from the sun's harmful rays which can damage eyesight over a long period of time.  Not to mention how much your skin will appreciate your cover-up.
• Organize all of your scarves using a scarf hanger that hangs in your closet.