How to Clean Pandora Jewelry
Warning
: count(): Parameter must be an array or an object that implements Countable in
/home/commcomm/public_html/wpsites/annwp/wp-content/plugins/really-simple-facebook-twitter-share-buttons/really-simple-facebook-twitter-share-buttons.php
on line
514
Made with the highest grade .925 sterling silver and 14 karat gold, Pandora jewelry designs start with quality. This jewelry is built to last a lifetime, but – like all silver jewelry – it will tarnish over time.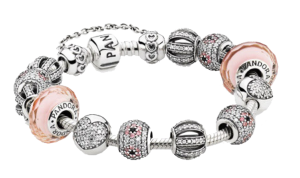 To prolong the beautiful shine of your Pandora bracelet, never wear your bracelet in the shower, ocean, or pool. Take it off during physical activity where it can be banged (or when you will sweat more) and when you go to bed. Avoid contact with perfumes, skin creams, hairspray, chlorine, and sulfur. And remember to store your bracelet in an anti-tarnish container away from sunlight and heat.
Sterling Silver and Gold
To clean Pandora Jewelry at home you will need:
• Clean, soft tooth brush
• Bowl of warm water
• Small amount of Dawn dish soap
• Dry towel
• Pandora polishing cloth
Unclasp your bracelet; if your bracelet is full, you may consider removing all or some of the beads and charms to ensure your bracelet is cleaned well.
Put a small amount of Dawn detergent into a bowl of lukewarm water to make your cleaning solution.
Use the soft tooth brush to scrub your jewelry with the cleaning solution.
Rinse with clean water.
Thoroughly dry and polish with Pandora polishing cloth.
*Take off all wood charms and charms with cultured freshwater pearls prior to cleaning, as they will deteriorate over time with this method.
Leather, Wood, Pearls
If you need to clean a leather bracelet, use a very soft and dry cloth. Leather conditioner may be applied to protect the leather from stains while keeping it soft. Stains should be removed immediately before the substance soaks into the material. Cleaning should be done gently, by hand, with a mild professional cleaner free of chemicals. As an alternative to this cleaner, use mild soap. Create suds in a bowl, apply suds to the leather with a soft lint-free cloth. Do not immerse in soapy water as it may leave bleach-type marks and streaks. Barely dampen the leather with your cloth. Use a dry, soft cloth to wipe leather after the damp cloth is used.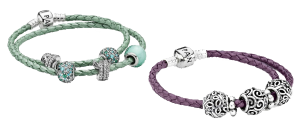 NOTE: All Pandora jewelry products are covered by a one-year warranty covering manufacturing defects. Wearing non-Pandora charms can damage Pandora bracelets. Pandora will not replace, fix, or repair a product that has been used with non-Pandora products. The use of non-Pandora products on Pandora jewelry will void the warranty. To read the full Pandora warranty, click here.
View Blog Page